Management with O&O Syspectr takes place over a web browser. Every current browser on every internet-capable end device can be used. There is no need for additional software or Plug-Ins. The same applies to the remote desktop which also operates entirely over a browser.
All computers at a glance

– The O&O Syspectr Dashboard displays all your selected computers in one overview. Every status change is immediately displayed and protocoled.

All information with one click

– With just one click you can call up all information on each computer. Which hardware is built in and what software is installed? What condition are the hard disks and SSDs in? All this and more is available with one click.

Immediate help in the browser

– With remote desktop you can make an immediate, direct connection with the affected machine over your browser, regardless of whether the user is logged on or not. If a user is logged on then he or she is informed of your wish to connect and can accept the request. You can also close down or restart a computer remotely at any time should you need to.

Notifications and reports

– In order to keep you up-to-speed when you are on the road or away from the office you can set O&O Syspectr to notify you by email should certain events occur. With one click from the mail you land in the appropriate area of the application so you can react immediately. With the reports function you can create a summary, for example of which hardware and software is available – perfect for carrying out system inventory.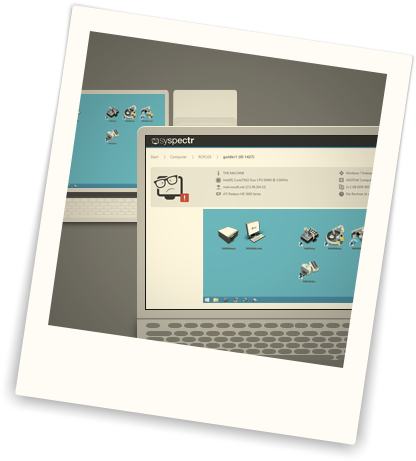 Selected features at a glance
Online Status

– Monitors the condition of your systems and reports sudden shut downs

Operating System

– Informs you which operating system in what version is installed.

Hardware Inventory

– Shows you at a glance all important Windows components such as CPU, Memory, hard disks etc.

Software Inventory

– Lists all installed software applications and components with its versions

Windows Security

– Is a guest account still active or a User Account Control (UAC) turned off? Potential security gaps are spotted immediately and permanently monitored by O&O Syspectr.

Windows Updates

– Learn which updates are installed and which need to be installed

Remote Console

– Simply open a command line on the remote computer in order to quickly check whether everything is correct or to help the user with problems.

Remote Desktop

– Immediate intervention from any internet-enabled device. Without additional software, browser plugins or DLL injections. If desired, work together with the user of the affected device.

Storage

– At a glance you can recognize entire storage volumes such as hard disks or Solid State Drives. You can define at which point the filling level should be identified as critical.

Storage Health

– Thanks to our O&O DriveLED technology that we have integrated into O&O Syspectr, various S.M.A.R.T. values in your storage volumes can be monitored and you will be notified in advance of approaching problems.

Process Watcher

– As soon as your processes begin or end you will be informed. This lets you monitor Windows services too.

Logging

– Al events are logged and displayed in a process log in O&O Syspectr so that you can always see what happened, and when.

System Optimization

– With the optional and chargeable premium app O&O Defrag you optimize your PCs over O&O Syspectr. Optimization with O&O Defrag leads, depending on the use of the computer, to a significantly increased performance and average service life of the hardware.
And much more…Try O&O Syspectr for yourself and find out just how easy IT Administration can be!